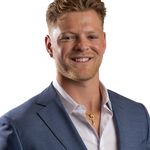 Dylan Webb
A little bit about me...
Dylan is a unique individual who brings his ability to connect with people of all different backgrounds to the Real Estate industry. A lifelong resident of Rockport, Massachusetts, Dylan has a profound knowledge of the North Shore and Boston neighborhoods. Helping his clients navigate each step of the home buying and selling process has quickly become his passion. Coming from a large family, he plans to use his extensive network to connect with clients daily. Dylan studied Entrepreneurship and Small Business at Quinnipiac University while representing the school's student-run club hockey team as President.
When he's not practicing Real Estate, he can be found at Bruins games working for the Promo Team or relaxing on his boat in the summertime.