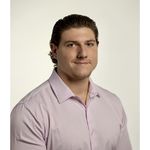 Aram Smith
A little bit about me...
Aram has always been interested in the real estate industry. He is fascinated by the building and sale of all sorts of properties. Aram appreciates that in real estate the harder he works, the better he will do and the more people he can help! He wants every client to have the smoothest and best experience possible. He strives to take what is often one of the biggest decisions a person can make and create an exciting experience out of it. Aram is oftentimes described as relentless, driven, and disciplined.
Aram was a Finance Major in College and he shows that knowledge when advising his clients on the Market. With other experience working in Landscaping and Home Building, one of the most important skills that he has learned is how to communicate with and help people get whatever it is they need. He has learned that everyone communicates in a unique way and for each person, he must stay true to himself while adjusting how he interacts with each person to help them reach their goals.